Mobile ordering designed for your business
With wi-Q Lite, your customers can browse your menus, order and pay from their PC or any mobile device, with no app to download. Just share your unique link on your website or social media and you'll be instantly ready to take online orders and payments through your own beautifully branded, customisable, user-friendly mobile ordering platform. Wi-Q Lite a a self-managed solution, giving you full control to build, manage and adapt your mobile ordering platform with 24/7 access.
You can add offers and menu updates in real-time, and your customers simply order and pay, collect or book delivery - a simple answer to getting your kitchen open for orders. SEE IT WORKING
Get started now for FREE for THREE MONTHS and you could be accepting orders within no time! We promise you will always retain 100% of order values unlike JustEat and Deliveroo.
SIGN UP FREE TODAY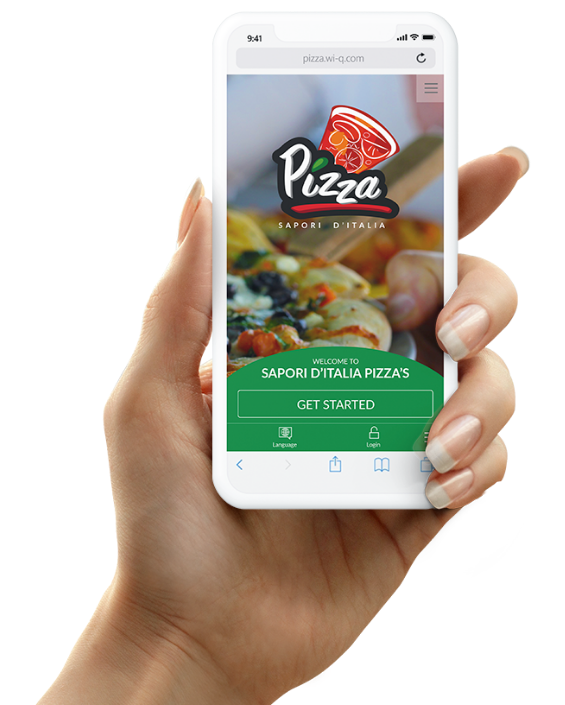 Used by some of world's biggest brands
wi-Q is a market leading cloud-based ordering service that can be accessed instantly from your customers' mobile device. wi-Q Lite puts the ordering and payment capability in your customers' hand with a intuitive, attractive interface. wi-Q is a service in constant development adding new features and streamlining the way that customers interact with the product giving your business and your customers a seamless, enjoyable experience.
With no app to download your customers can connect to your menu via a URL, link or QR Code which can be shared via social media.
SCHEDULE MENUS & OPENING TIMES
wi-Q features opening hours and per menu scheduling whilst still allowing customers to view your menu.
COMPREHENSIVE MENUS
Menus support, images, descriptions, scheduling, product search and filtering by dietary & allergen.
CARD PAYMENT VIA STRIPE
Stripe is one of the leading online payment providers, offering secure card payments for your business.
CUSTOMISABLE PRODUCTS
wi-Q products feature, images, descriptions, allergen & nutritional information, options, quantity and user notes.
MULTIPLE FULFILLMENT METHODS
Whether it's collection, delivery or eat-in, wi-Q has the order fulfillment method to suit your business needs.
https://sapori-d-italia-1.wi-q.com/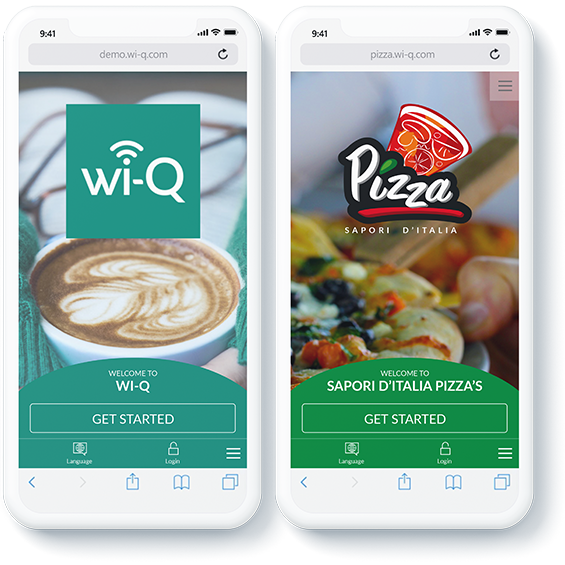 OUR UNIVERSAL, YET
BRAND-CUSTOMISABLE INTERFACE
Customise the wi-Q Lite user-interface using your logo, brand colours and images in seconds. The end result? A fully brand-customised, web-based mobile ordering solution ready for you to start taking orders and payments.
Want to see wi-Q in action? Click here to go to our demo pizza takeaway mobile ordering site where you can browse the menu, customise your order and create a guest account. Like what you see? Get wi-Q Lite free for three months.
YOUR QUESTIONS ANSWERED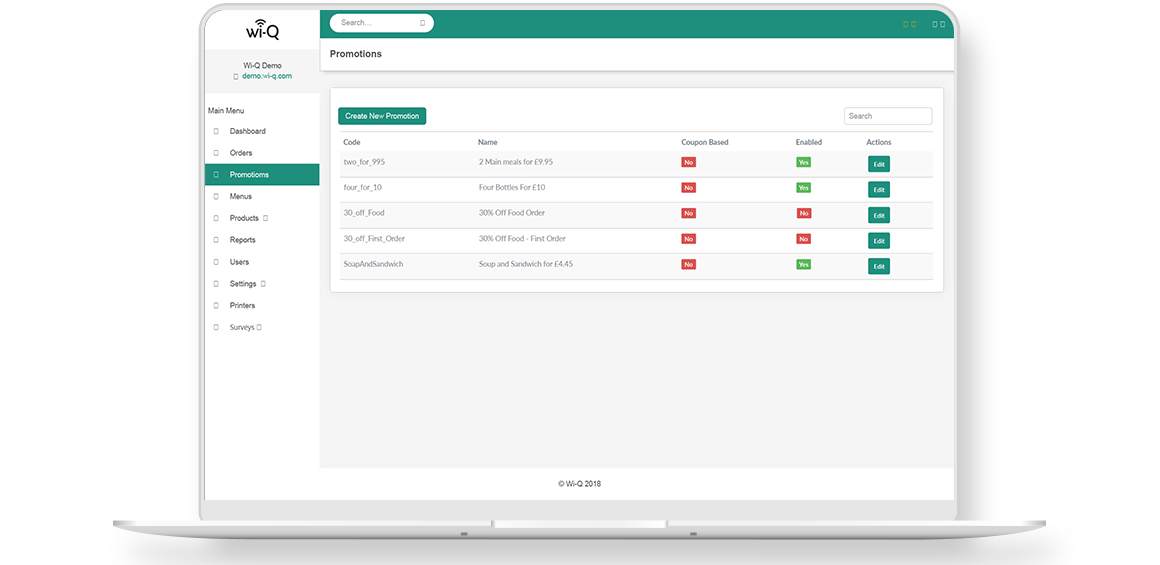 ADD PRODUCTS, CREATE MENUS & VIEW ORDERS
The wi-Q Backoffice is a fully-featured administration area, enabling you to configure your online ordering system to suit your business needs. You can keep track of your latest orders, view reports on sales, payments, daily spend, order times and much more. Customise how your system looks, set opening times and menu schedules and add special offers at the touch of a button. You can also create, edit & delete products and configure your menus. The wi-Q Lite mobile ordering system is perfect for dine-in or takeaway orders and provides you with all the tools your business needs and the ease of ordering your customers deserve.
ACCEPT ONLINE PAYMENT WITH OUR STRIPE INTEGRATION
wi-Q has partnered with Stripe, one of the leading online payment providers, to bring you a reliable, secure method of taking online card payments. Stripe works with financial institutions, regulators, payment networks, banks, and consumer wallets so that you don't have to. Stripe accepts an array of cards and digital payment methods making it easier and safer for your customers to place an order with you.
Unsure about Stripe? Stripe is one of the world's leading and most recognised payment platforms, used by businesses including Amazon, Uber and Xero. We'll guide you through the set-up process and you'll be taking payments in no time.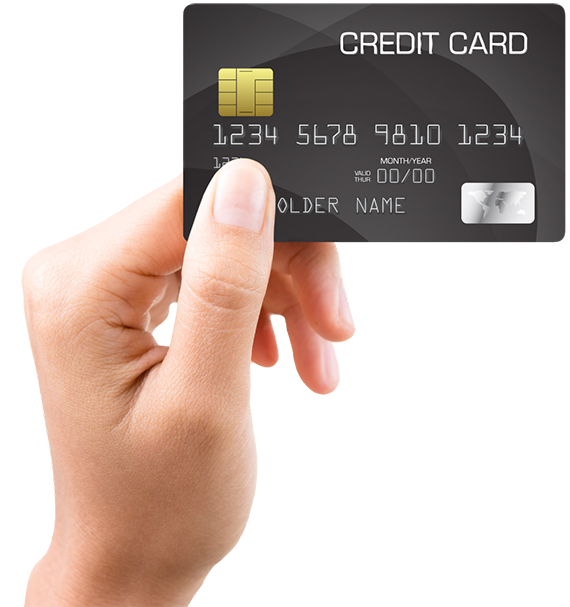 BRANDED EMAILS AND PRINTABLE ORDER RECEIPTS
It's not just the User Interface that can be customised to match your company's branding. The order confirmation and other system-generated emails can also be branded, giving your customers a cohesive user experience and maintaining your brand visibility.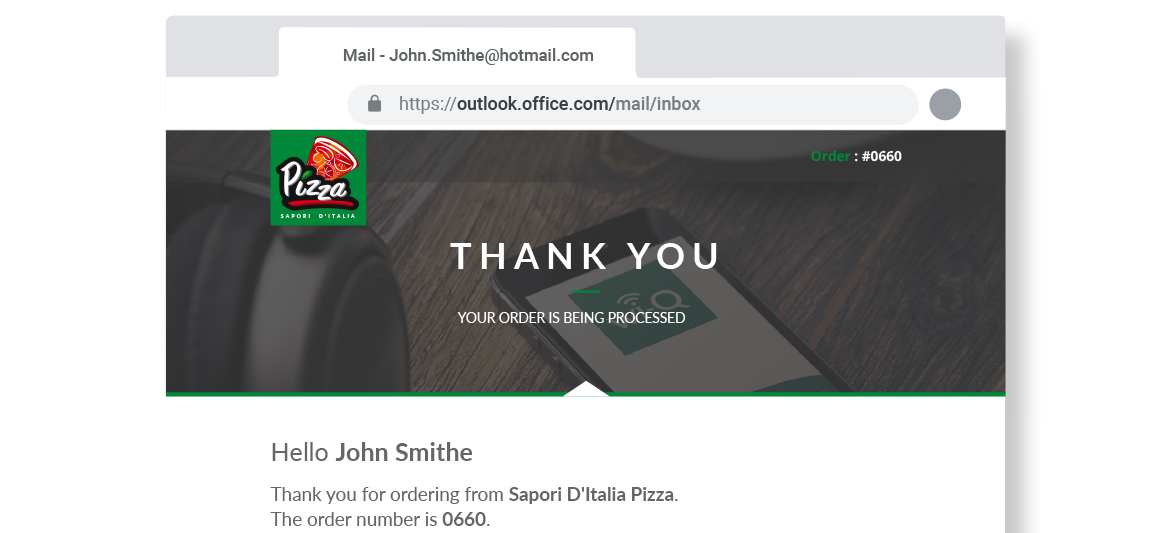 SIGN UP TODAY AND GET THREE MONTHS FREE
With no contract and monthly billing wi-Q Lite is the perfect solution to transform your business model through the COVID-19 crisis. So sign up today and get your first three months free with no obligations*. You'll be amazed at what mobile ordering can deliver for your bottom line, so open those revenues streams today with wi-Q Lite. 
*No deployment fee, no contract, three months free, then £50+VAT per month thereafter - that's a further discount of 50% for the rest of 2020.
THE MULTIPLE AWARD WINNING
MOBILE ORDERING SOLUTION