Newsroom
How to boost revenue in your hotel with takeaway and eat-in F&B services
Discover how your hotel can capitalise on guest demand for takeaway and dine-in food options with help from mobile ordering technology.
---
During the peak of the pandemic, hotels worldwide changed their catering options to allow for drive-through, curbside pick-up, take-out, and delivery as a temporary solution to bring in some revenue.
Now the dust has settled, and with predictions of hotel occupancy rates not reaching pre-covid levels until 2024, hoteliers are starting to implement more innovative long-term F&B strategies to drive revenue and aid recovery.
Original takeaway options
In more recent times, we have seen large hotel chains and boutique hotels enhance their restaurant services by placing a strong focus on ramping up their takeaway menu, allowing guests to experience their favourite food on the go, or by bringing luxury experiences to their home.
Some hotels have even built effective and authentic relationships with local restaurants in order to offer their guests something new and exciting. For example, see how the Lyaness bar at Sea Containers hotel on London's South Bank has adapted with an 'at home' bottled cocktail delivery service.
Having a digital menu full of options provides an excellent opportunity for hotels to attract the younger generation and offer the convenience and ease of use they desire – with 79% of millennials stating that they enjoy experimenting with food from different cultures and countries.
Partnerships with third party delivery services
Long gone are the days where ordering takeaways to your hotel room was frowned upon. Instead, hotels are listening to what their guests want. The order-in trend, propelled by the pandemic, is predicted to surge by 83 per cent in the coming years, with the broader delivery market's revenue expected to increase to $97bn by 2024, following a year of record growth.
It is now a guest expectation to have food delivered in from outside providers, and the refusal to do so could alienate future generations of customers. Recent industry research found that food delivery services such as Deliveroo, Just East and Uber Eats could help open up new opportunities for hotels, with 67% of millennials more likely to make room reservations with hotels that offer that service.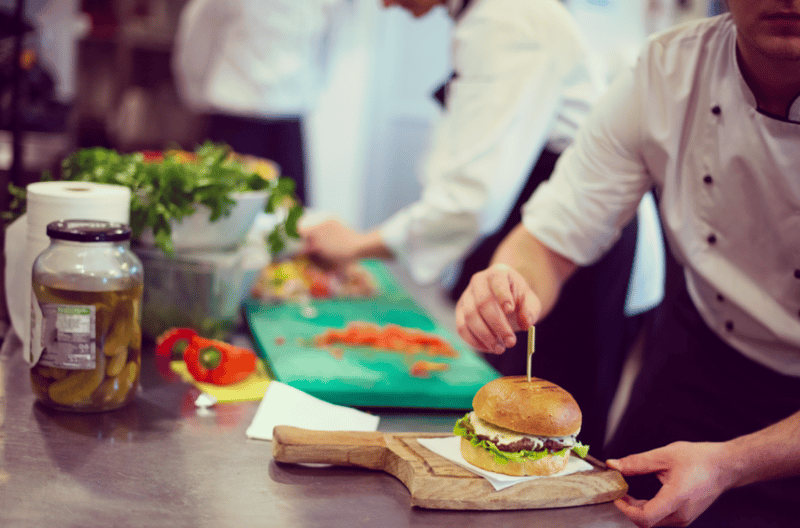 Technological Advancements
Implementing a cloud-based mobile ordering solution to facilitate your hotel's F&B takeaway orders can give you access to robust customer data – allowing you to recognise trends and discover opportunities for future growth of your hotel restaurant or bar.
A recent survey found that 49% of hoteliers are prioritising upgrades to revenue-related software in 2021. Many are swapping out server-based systems favouring innovative cloud-based solutions that enable them to digitally transform and begin viewing data as more of an asset.
Contactless Ordering
With Covid-19 still a threat, research from Skift has shown that 45% of travellers are choosing hotels that offer self-service ordering technology to avoid contact with hotel staff. So make sure you provide guests with the option to order from their room or even outside the hotel. It may also be worth investing in a F&B collection desk to make it easier for customers to grab food on the go, hotel guest or not.
Interested in expanding your hotel services, to offer both hotel guests and visitors the ability to order in-room delivery or takeaway food from your hotel restaurant? Talk to wi-Q about mobile order and payment in your hotel, and your options regarding third-party delivery integrations into your POS.