Shaping the future of hospitality
wi-Q's mobile ordering platform is the ideal solution for today's global digital guest engagement demands
Re-imagining Guest Experience
In 2014, wi-Q became one of the first web-based mobile ordering solutions to give customers instant access to hospitality venues' menu of services; with ordering and payment capability, via their own internet-enabled device.
In the past 8 years, our global clients have benefited from the expertise of our award-winning development team, who have continued to challenge the boundaries of what can be achieved through the mobile ordering platform - alongside world-leading industry partners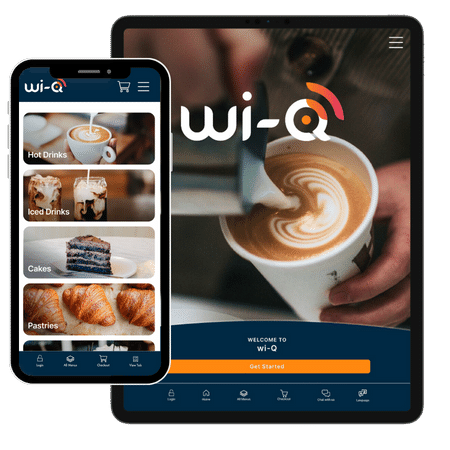 Future-proof your business with mobile ordering
Our state of the art mobile ordering technology helps you streamline your business process and enhance customer experience
Over 9 years wi-Q has gone from just an idea to a key part of businesses and organisations across the globe, establishing itself in 55 countries and counting, being part of 150k orders per month.

9 years and counting, Making us one of the first out there.

55 countries proudly use wi-Q

150k+ orders per month go through wi-Q

Items have been sold using wi-Q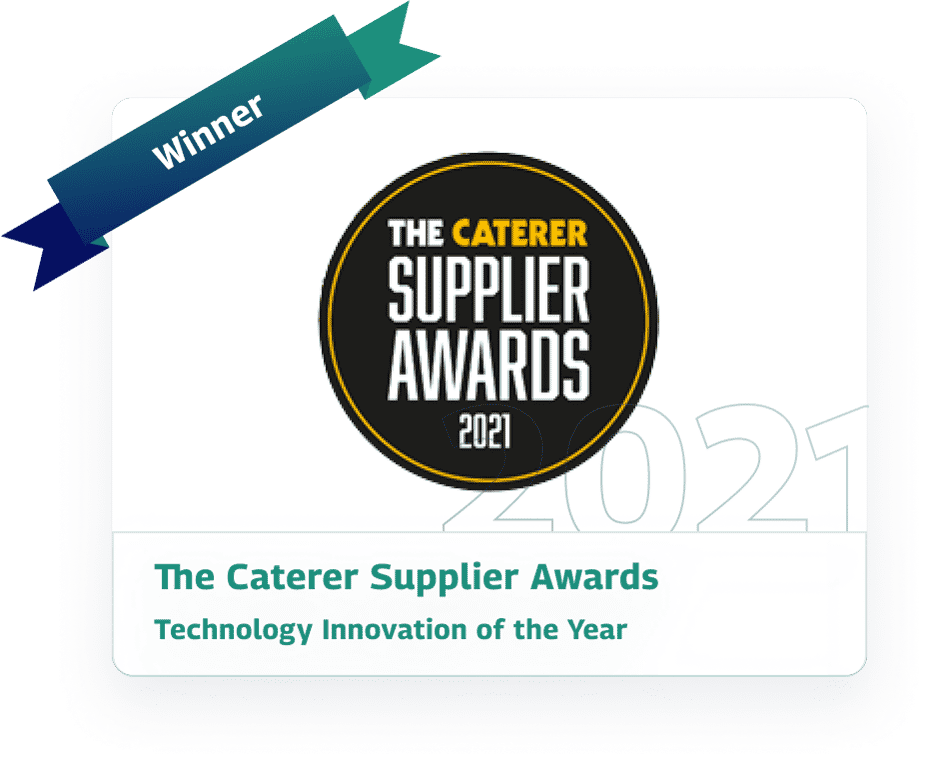 wi-Q Connect Wins The Caterer Innovation Technology Award 2021
The Caterer Supplier Awards honours the manufacturers, suppliers and producers of the most creative and innovative food, drink and equipment products that have kept and will continue to keep hospitality alive.
A mobile ordering solution for every business
Our selection of mobile ordering and order management products suit a hospitality business of any shape or size
Fast Setup
Mobile Ordering Solution
DASH
---
Compact

Fast Implementation

Non-Integrated

Web Based

Live Order Management

Complete control over user experience
Robust
Integrated mobile ordering solution.
ENTERPRISE
---
Multi Award-winning Product & Integration Technology

Fully Customisable Branding

Easy POS & PMS Integration

Dedicated Account Manager
Self-service
Mobile ordering on-site kiosk
---
An efficient self service system

Supports high order frequency

For Quick Service Restaurants

Reduce Staff costs

Increases profit
Full Integration
Order management system
CONNECT
---
Full systems integration

Manages multiple delivery partners and POS, or PMS systems

Manage and process orders from one intuitive interface

No more delays and excess admin
TECHNOLOGY
Easy to use, real time dashboard
Control every aspect of your customers' orders and build and edit menus in real time. From here, you can manage upselling notifications, promotions, scheduling, item availability and more, as well as benefit from intelligent data analysis to improve your customer service and bottom line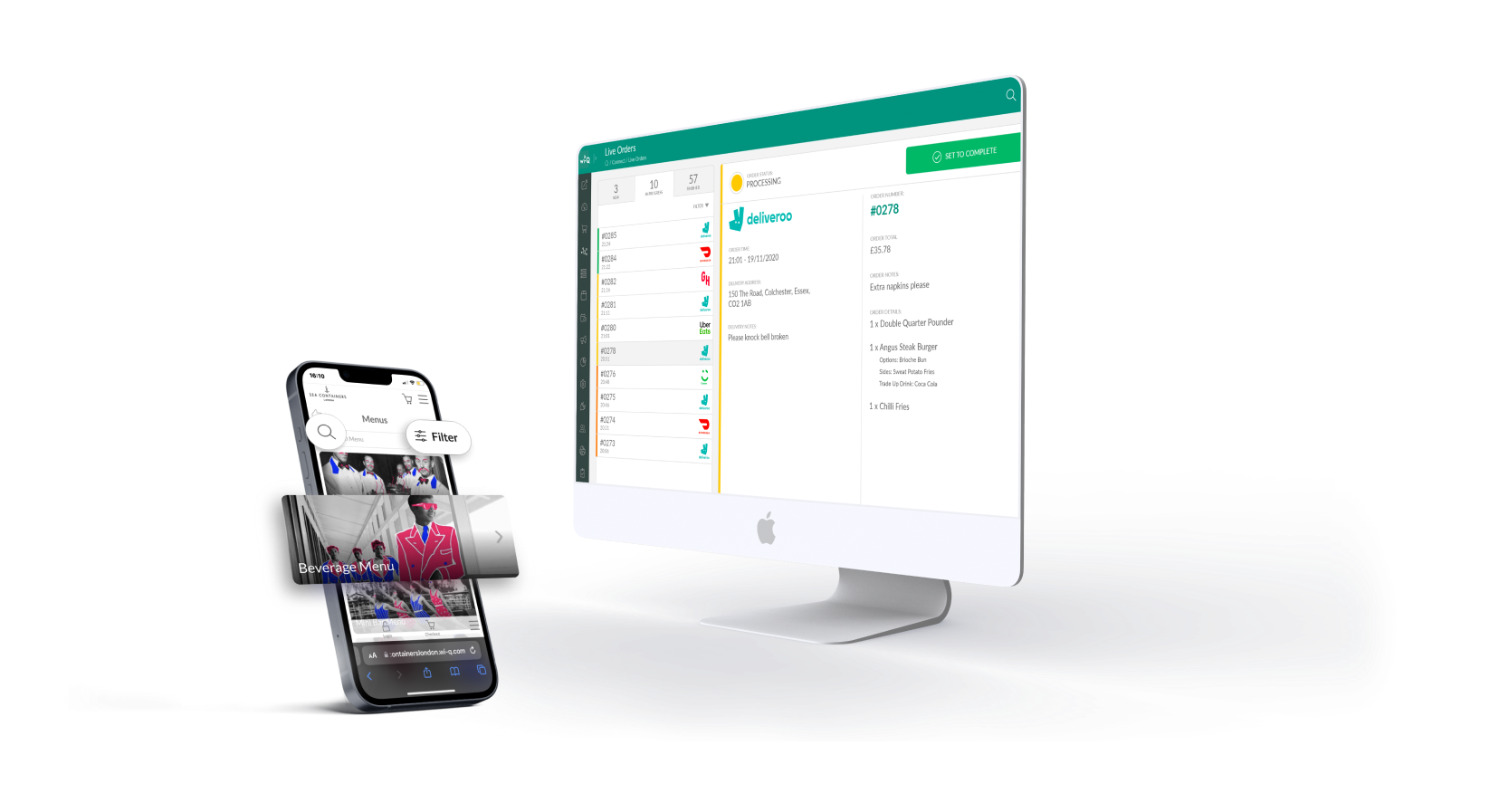 Join our global community and reserve the latest updates on all things wi-Q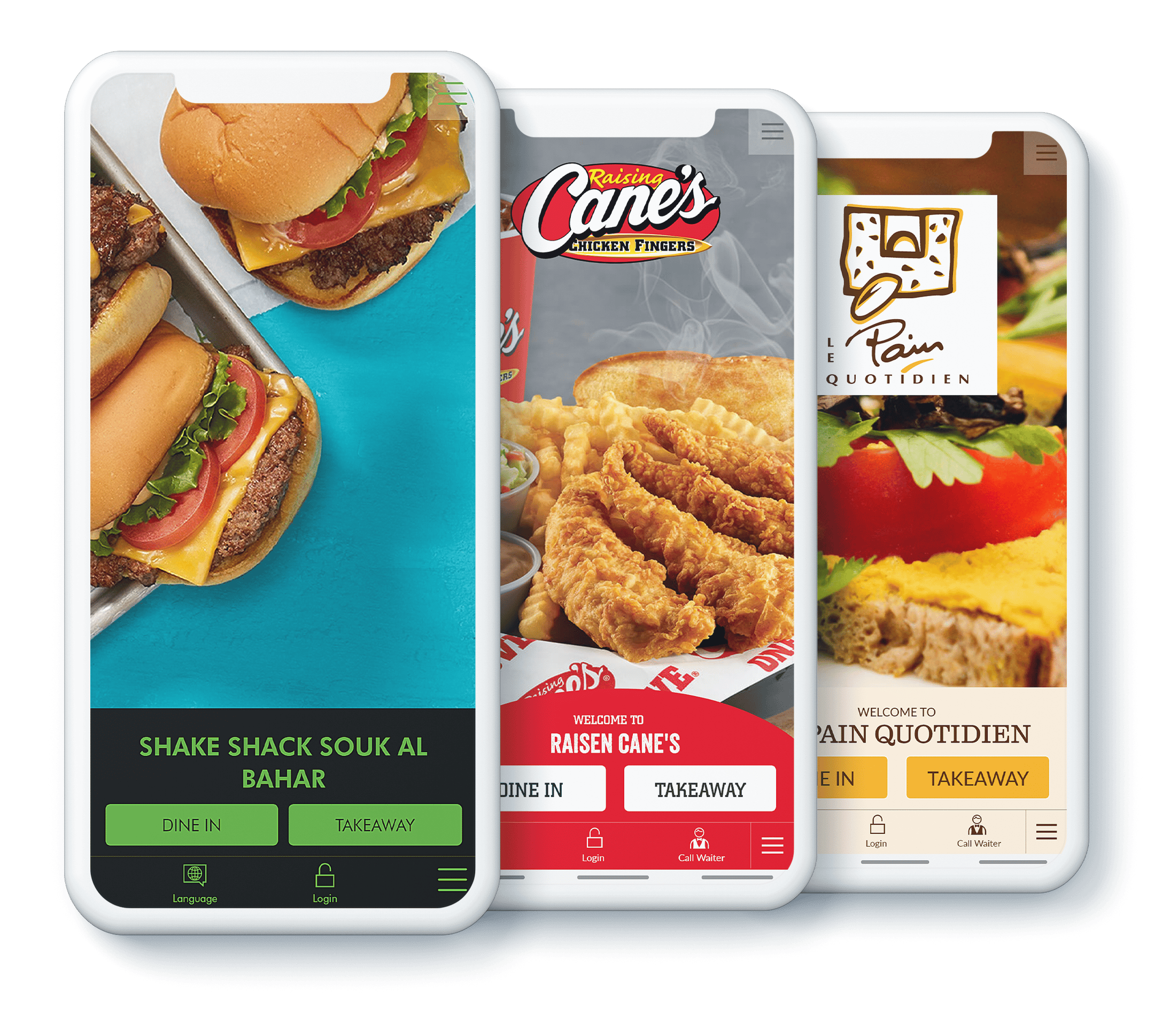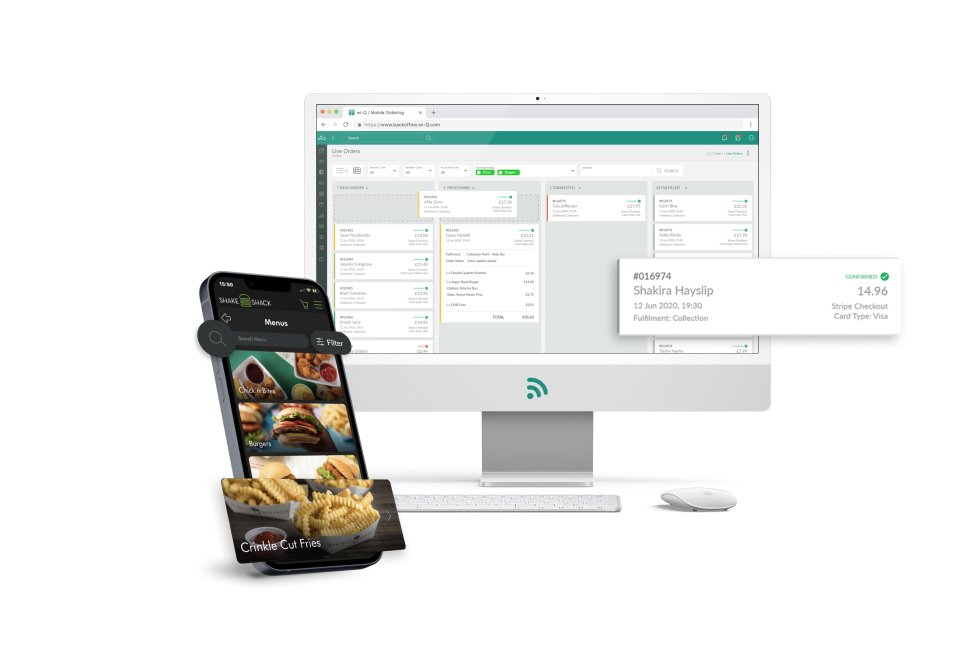 INTEGRATION
Seamless Integration
'Implement wi-Q and benefit from a gateway platform which can facilitate and grow multiple digital ordering channels, all seamlessly integrated with your POS and PMS. wi-Q is an Oracle Gold Partner and our Point of Sale (PoS) and Property Management Systems (PMS) partners include Oracle Hospitality, Agilysys, Amadeus and more.
BIG PICTURE
Multiple Payment Methods
To allow your guests to check out quickly and easily, wi-Q has partnered with the world's leading payment providers and built in support for Charge to Room, Tabs and Cash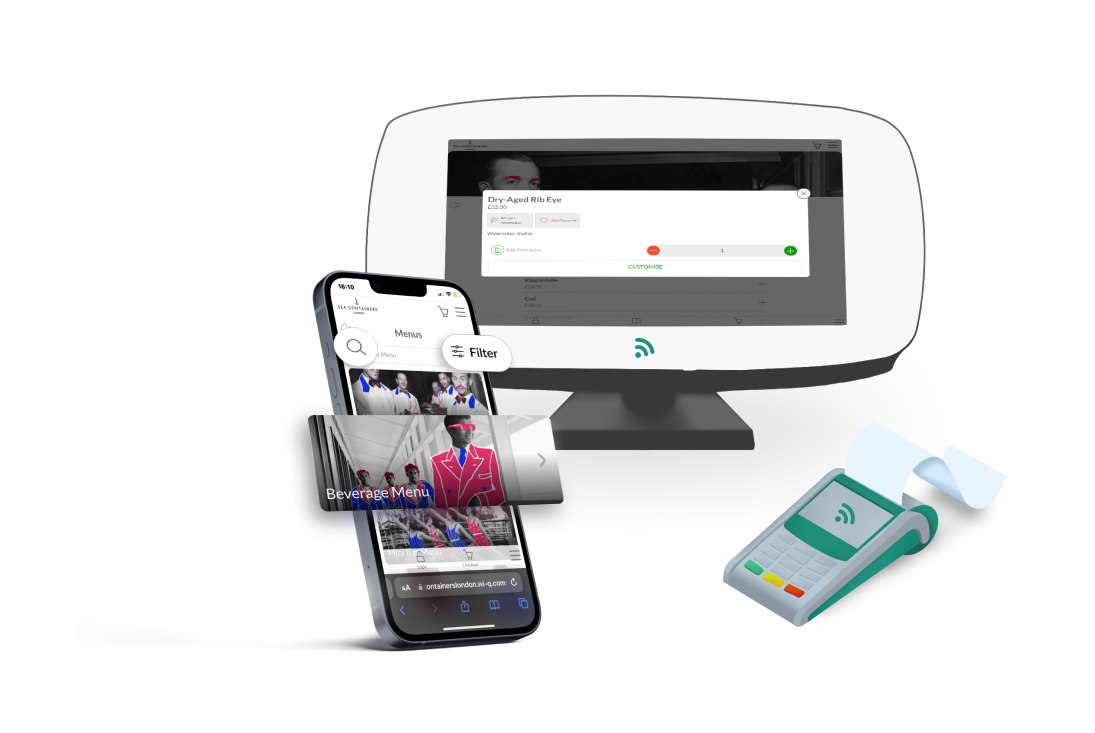 CLIENT FEEDBACK
What our clients say
Learn how hotels and restaurants around the world utilise wi-Q's platform to reduce their operating costs whilst maximising their revenue, staff efficiency and improving their guest's dining experience.
The feedback we have had from guests and the team on our digital ordering service has been very positive. wi-Q's system greatly supports our productivity, and therefore our customer service, so we have plans to trial it further this year within our meeting rooms and to support incremental a la carte orders.
We see the introduction of this technology as a huge step forward in driving our passion for a great customer experience in club.  Our customers tells us they love the speed, convenience and ease of use of the platform.  We look forward to continuing to innovate this technology to enhance our customer experience for the future.
Working with the Wi-Q team couldn't have been simpler. The product was turned around within record time with any requests that are not currently available to us have been sent to development for deployment at a later date.
Sea Containers London Hotel
Find out how the hotel utilised our solution to enhance their customer experience.
INDUSTRY REPORT
2021 Hospitality Trends
Get our free ebook on the 2021 trends shaping the hospitality industry.
FROM THE BLOG
Latest Insights
Read the latest industry news and market insights on our blog.
Hospitality
The menu is at the heart of every food and beverage establishment. And in today's tech-driven ...